The Digital Tree Monument is an art project by Nicole Spit to digitize trees from the Castricum area and place them in a virtual dream world.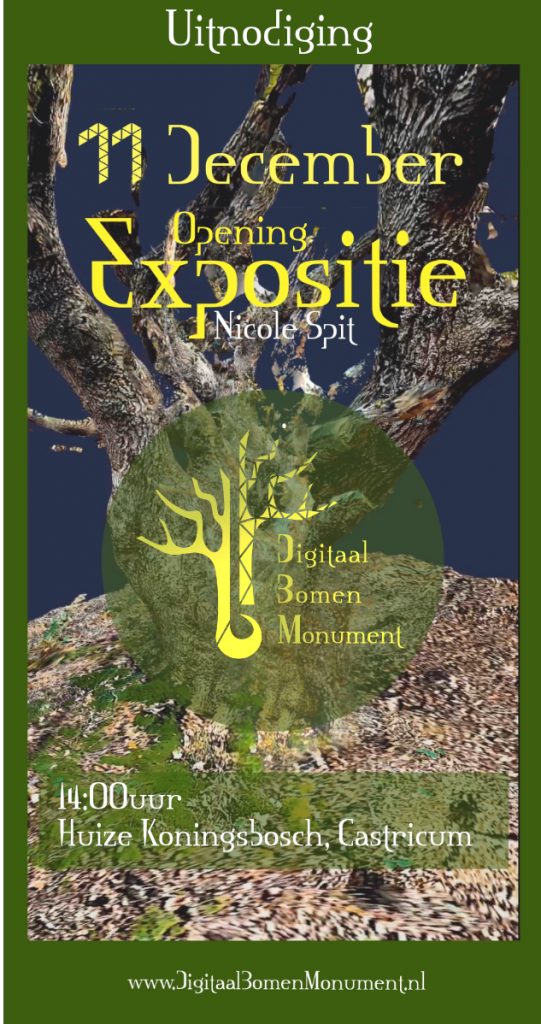 Do you also want to be there on December 11th, in the large hall of Huize Koningsbosch in Castricum? Please register before 1 December via : nicole@studiodaarheen.nl
Don't miss out, space is limited. After registration you will be on the guest list and you are entitled to two vouchers (pp) for a drink and a special 'forest snack'.
Program Sunday December 11th:
2:00 pm _ Walk-in
2:30 pm ___Introduction and 'Artist Talk' with an explanation about the project and the AR app to view the extra film layer.
3:00 pm ____Opening by representative of the municipality of Castricum*
3:10 pm ____Opportunity to view all artworks (and to get the special 'forest snack')
4:30 pm Completion
Nice to see you there too!
*The 'Digital Tree Monument' art project is supported by the makers fund for artists of the municipality of Castricum